Dear Startup Investor,
Neil here.
The startup landscape is evolving quickly, and it's time to step up our game. Let's chat.
Deal-making soared in the first half of 2021, across both the public and private markets.
I'm talking about a record-breaking $2.82 trillion in deal volume in the last six months alone, across over 28,000 different deals. In the private equity world alone, deal totals hit $512 billion… a 152% increase from the same time frame last year.
If you look around, you'll hear many different reasons for why this year was unlike any other for smash-hit deals. Some experts call it a pandemic recovery, some point to low borrowing rates, some attribute it to undervalued private companies and stocks, and others call it a nice mix of the three.
Now, I don't think these experts are wrong. But I think just pointing to these shorter-term reasons misses a longer-term, and much more important point. Let me explain.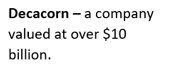 Private equity is changing, and it was changing rapidly before COVID-19 was ever on our radars. The value of $1 billion is nothing today compared to where it was just 10 years – or even five years – ago. And instead of hunting down unicorns, angel investors and VCs alike are on the hunt for the world's next
decacorns
and beyond.
In fact, they're chomping at the bit to get in… hence the major deal flow spike this year.
But don't freak out. This is good news for early stage investors, no matter how much money you're throwing behind a startup company. Here's why:
If you're just getting started on your angel investing journey, it's likely your portfolio will include mostly seed stage and Series A companies. These are two of the earliest stages in a company's development, and you'll likely see many of these companies raising money across crowdfunding sites like Republic, StartEngine, Wefunder, and more.
Generally speaking, as a company progresses through the "startup timeline," it will grow in valuation, or worth. If you invest in a company at its seed stage, that company will hopefully be worth more and more as time goes on – and hopefully, it'll eventually lead to a sweet exit that could line your pockets 10 times over.
Over time, however, the seed and Series A landscape has evolved. The round sizes have increased, and the companies entering these financing rounds are more mature now than they've ever been.
In 2020, for example, the median round size for a seed stage offering was $4 million, compared to $3.2 million just a year before. The median round size for a Series A offering hit a $16 million high in the last quarter of 2020, compared to $14 million the year before. And last year, 81% of seed-stage companies and 88% of Series A companies that completed offerings were already generating revenue.
As Wing VC's Peter Wagner puts it, "A 2020 seed is now like a 2010 Series A… [and] a 2020 Series A is now like a 2010 Series B."
In 2021, that momentum has only accelerated. The SEC's newest amendments – launched in March – now allow startups to raise up to $5 million in a Reg. CF offering and up to $75 million in a Reg. A offering.
Now, I don't want to get into a long-winded lecture on numbers… So, here are the three most important takeaways from all of the above.
Startups are raising more money, and they're raising it earlier at higher valuations.
Startups raising money at earlier rounds are more mature now than those raising just a few years ago.
As more and more companies join the unicorn ranks, a $1 billion valuation is less of a novelty. These days, decacorns are where it's at.
That's all well and good, but why does this matter for you? Well, here's the fun part.
It doesn't matter how much money you have in your startup investing budget, because even the earliest stage companies – the ones just beginning to raise money – are likely going to be even more established and set up for success than ever before. And many of them are raising
right now
on crowdfunding platforms with investment minimums of just a few hundred dollars – sometimes less.
In other words, you don't need to be a bigshot VC to invest in the kinds of companies that could make you an absolute killing. And as the world of private equity investing continues to open up and become more accessible to all, I don't doubt there'll be opportunities for you to invest at any stage of a startup's journey – from seed stage all the way up to an exit.
Right now, for example, there
are 550 different companies teetering on going public
as we speak. These are some of the most innovative companies in American history… the ones that could kick its investors back a fortune, even if you get in right before an exit.
And today, you can access them right alongside the multimillionaire bankers, hedge funds, VCs, and wealthy all-stars of the world.
For context, only a few of these companies were available to purchase before 2020. But today, you have the opportunity to get in on many of these pre-IPO opportunities
for as little as $1
and watch them explode in value as they take on the public markets.
Shah Gilani, the chief investment strategist over at
Money Morning
, has the full scoop. And based on his analysis, he's predicting
powerful and rare gains in a matter of months.
Some of these companies have even shown exceptional peak gains ranging anywhere from 2,088% all the way to 27,550% already.
It's absolutely mindboggling… and that's coming from a seasoned angel investor like me. In my opinion, this is a secret that's been kept from you for far too long, and it's time you learn what it's all about.
Shah's got even more details, so
click here to catch his full report
and learn how you can activate what he calls your "pre-IPO rights" today.
Have a great day, and I'll be back soon with another update.
Until next time,
Neil Patel